Support Center
Social Sharing Tools Not Displaying
Chris Plapp March 08 2017 11:50 AM
If you attempt to use the social sharing options located on the Share -> Share To tab and notice nothing is there, as the screenshot below shows, you will need to disable tracking protection in Firefox.
This is a Firefox specific issue.  Please note that if you do not see the Social Sharing Tools header either, this feature has been disabled for your account by your administrator.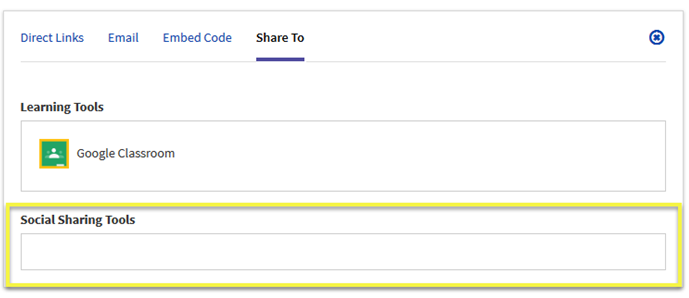 Firefox started enabling Tracking Protection with Firefox 42.0, which can cause the social sharing tools to sometimes not load in Private Browsing windows. It's also possible to enable Tracking Protection in regular browsing windows as well.
How to turn Tracking Protection off
Tracking Protection is enabled by default when you're in a Private Browsing window. You may choose to disable Tracking Protection for a particular site or for all sites.
Turn off Tracking Protection for individual sites
The shield icon will appear when Firefox is actively blocking trackers on a page. Click the shield icon to bring up the Control Center.

In the Control Center, click Disable protection for this session.

Once Tracking Protection is disabled, a shield icon with red strikethroughwill appear in your address bar.
---