Support Center
Adding Playlists to Search
Steven Brown February 15 2017 11:58 AM
Playlist can now be added to search and shared within your institution or consortia. To make a playlist searchable, begin by clicking on the Edit Playlist button on the top of the playlist page.

Note: You must be the playlist creator to see this button. If you are not the playlist creator, you will need to first copy the playlist to your My Playlist section and then you will be able to edit the copied version.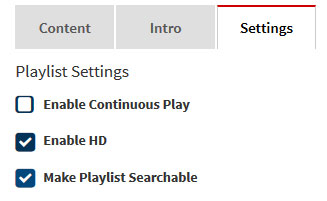 Once inside the playlist editor, click on the settings tab, and then click on the check box that says Make Playlists Searchable. Then be sure to click the Save Changes on the top of the edit page. This will then make the playlist returnable in search results for your entire institution or consortia. Playlists will display under the designated "Playlists" tab, for all relevant searches.
Other users within your institution or consortia will now be able to view your playlist and also save a copy of it to their My Playlists section and make further edits to their version.
Additionally, a playlist's searchablility can also be turned on/off using the Bulk Actions tool in the My Playlists section. Simply check the playlists that you would like to modify and choose "Add to Search" or "Remove from Search" from the Bulk Actions drop down.
Lastly, Administrators can turn this feature on/off for the entire account, via the Account Settings section of the Admin Portal. Click on the "Enable Playlist Sharing and Copying" check box and then the click the Save button for Account Settings.
For more information about using playlists, see the following articles::
---