Support Center
Chris Plapp January 02 2016 06:20 PM
General Overview:
The new assignment tool is designed to allow the group owner to assign selected content, along with basic instructions, to group members. Once viewed by a group member, they may turn in the assignment and complete the process.
Assignments currently support Playlists, Favorites, Custom Segments and Saved Searches.
Assignments support folder organization. The My Assignments section contains a New Folder button inside of it that allows you to create folders as you need them. As you visit other sections within My Films, the same folders will be accessible. Options to move assignments into one of these folders and view all assignments in a particular folder exist as well.
Assignments can only be assigned to group members, from within the group itself. The My Assignments section is reserved for creation and organization of all assignments.
Creating an Assignment: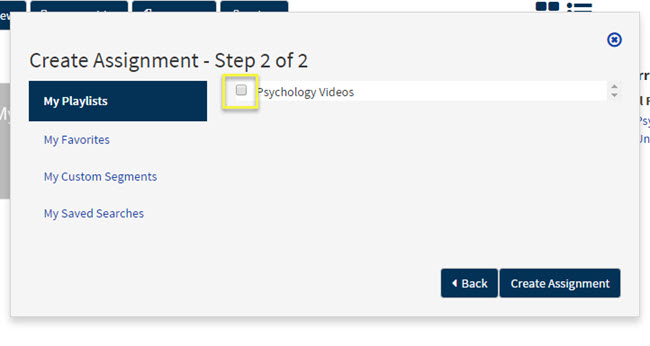 To create a new assignment, click on the Create New button within the my assignments section. The create assignment window will open, allowing you to complete the two step process for creating an assignment.
Step 1:
Enter a title and basic instructions for your assignment in the provided text fields. Optionally, select a folder to organize your assignment, or leave it in the unassigned folder. Every user account starts out with an Unassigned folder by default. This folder cannot be edited or deleted, unlike other folders you may create.
Step 2:
Select existing content from other My sections using the check boxes. Assignments currently support Playlists, Favorites, Custom Segments and Saved Searches. Select any number of these items and click the Create Assignment button to finish the process of creating your assignment.
Viewing / Editing an Assignment:
Clicking on an assignment title from the main My Assignments section will open it in edit mode. The top of the edit assignment page contains buttons to preview and delete the assignment. Preview will open the assignment in a new browser tab, simulating how it will look in the group. The assignment editing page is divided into three main sections:
General Information - Contains the assignment title and instructions.
Feedback - Not visible in edit mode. Anyone completing the assignment will use this section to provide feedback.
Files to Review - Contains files to review in the assignment. Use the Add Files button to attach additional items from the My Films section.
My Assignments Main Page:
Assignments can be viewed inside a group, and inside the My Assignments section. Assignments created by you and ones that were assigned to you are clearly indicated with different thumbnails. From within My Assignments, the assignment page has the following features and functionality:
Create New - Click on this button to create a new assignment.
New Folder - Click on this button to create a new universal folder that can be used to organize assignments.
Organize - Only shows up if you have content to organize. Use this button in conjunction with the check boxes to the left of every item to move favorites from one folder to another.
Delete - Use this button to delete assignments. The delete button only works in conjunction with the check boxes to the left of the thumbnail.
Grid / List View - Use these buttons to toggle between grid and list view. The default view is grid, but you can click on the list icon to switch to a list/table formatted view.
Check box - Use these to delete assignments. Multiple assignments can be selected and deleted at one time.
Assignment Name - Clicking on the name will open the assignment in editing mode. In this mode, you can edit the assignment details and add / remove files from the assignment.
Item Count - The number of content items included in each assignment.
Preview - Clicking on this link will open the assignment in a new browser tab to simulate how it will look for group members taking the assignment.
Share - Clicking on Share will open a new section below the assignment with the direct URL back to this assignment. This is an authenticated link that will require someone to login before they can view the assignment. It is possible that other people may not have the same content in their accounts and therefore will not be able to view everything shared.
Delete - Clicking on Delete will allow you to delete an individual assignment. You will be prompted to confirm that you really want to perform this action.
Narrow Results - Folder level filters that allow for easy filtering of content stored in any of your folders. Clicking on a folder item will display only assignments stored in that folder.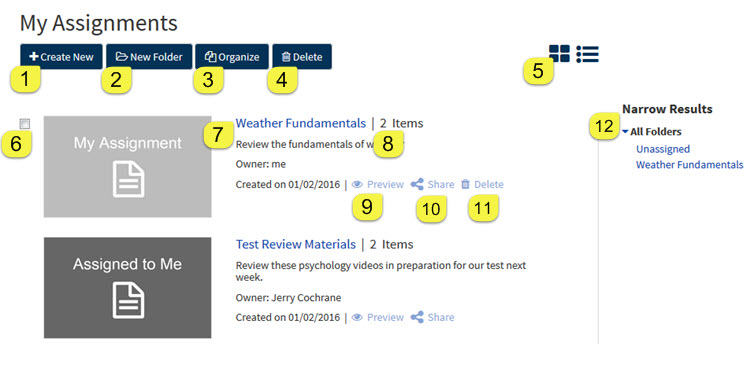 ---