Support Center
Classroom Video Chrome Web Store App
Chris Plapp September 26 2016 09:24 AM
Classroom Video offers a Chrome web store app that can be added to your Chrome browser apps dashboard page. Our app is located under the Academic Resources section of the Chrome web store, and available in Google Play for Education. The Classroom Video Chrome app is integrated with Google sign in. If your account has Google sign in enabled, you will be able to use Classroom Video without having to login each time, when accessing Classroom Video via the Chrome dashboard app.
Google Apps for Education (GAFE) is a core suite of productivity applications that Google offers to schools and educational institutions for FREE. If you school is using these applications, you will be able to use Classroom Video, Google Apps, and Google Classroom all seamlessly, without having to login again.
Benefits of using the web store app with Classroom Video:
Integrated with Google sign in and Apps for Education (requires your account to have Google sign in enabled)
Linking your Google account creates a single sign on experience and bypasses the login page
Classroom Video app available right from your Chrome browser apps page
Included as a free service
The first time you click on the Classroom Video app, once added to your dashboard, you will be required to sign into Google and link your existing Infobase account, or create a new one.
For more information on our Google sign in process, see the Google Sign In Button - How to Link Your Google Account help article.
Search for, "Classroom Video" using the web store search to quickly locate the app and add it to your dashboard. To add the app, Click on the blue, ADD TO CHROME button shown below.

You may also click anywhere on the app listing to view more details about our app, as shown below: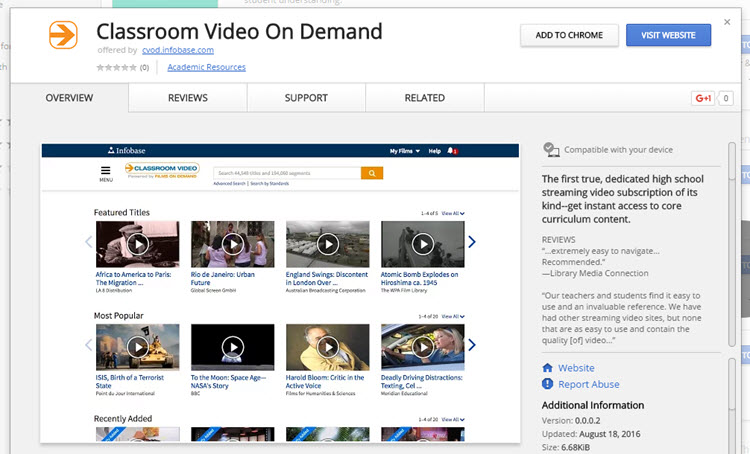 Once added, the app will appear on your Chrome dashboard using the following icon: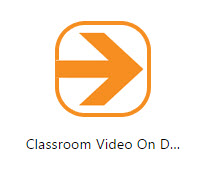 Before using, please verify that you are signed into Chrome with your Google account, if you intend to link your account to Classroom Video and take advantage of the single sign on experience.
If you have previously used our Google sign in and linked Classroom Video to your Google account, you will be presented with the below login page, asking you to link an existing Infobase account. You must have an active user account to complete this integration.
If you have not previously taken advantage of our Google sign in, you will first be asked to allow Classroom Video to access your Google account.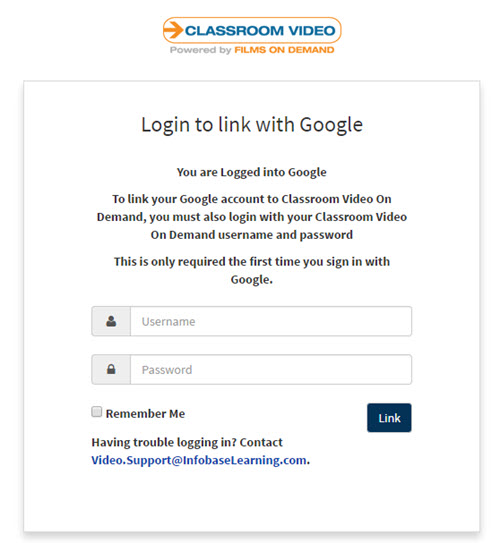 Enter your existing username and password, and click Link to complete this process. You MUST have an existing user account. The general user account cannot be used here.
Every subsequent visit to Classroom Video using the Chrome web app will now automatically log you into your account!
---