Support Center
Heather Gooch March 23 2017 09:43 AM
Below is a list of all enhancements that have been made to the eBook Platform. With each update, we strive to improve the overall user experience and introduce new features based on customer requests and online media best practices. To suggest an enhancement or for more detailed information about any of these changes, please contact ebook.support@infobaselearning.com. Additional updates will be added as they become available. 
New Home Page Design!  (March 22, 2017 )
The new design consists of the following:
New Header Design

wit

h a Search link that takes you to our revised search page.

New "Most Viewed" slider that pulls in a randomized list of titles from that can show up to 20 of your most viewed eBooks.

New full Subject List is now browsable from the home page.  For "a la carte" only accounts, you will be taken to a different home page where you have direct access to your titles and can scroll through them all.
Updated eBook Reader for PDF Titles (March 22, 2017)
The old HTML view has been eliminated for all PDF titles.  We are now using Flexpaper that includes embedded tool options that allow you to search within the PDF and control the display of the file.
Updated Search Features (March 22, 2017)
We have updated the following items related to Search:
Basic and Advanced Search have been combined into one universal search page, accessed from the new Search icon in the home page top navigation.
New "Search Results" design page
Filters have been moved to the right side of the page and are now completely dynamic
New Feature! Share to Google Classroom (August 19, 2016 )
If you are using Google Classroom, you can now incorporate content from the platform into Classroom courses with the click of a button. Content can be shared to Google Classroom using the Share link located in the left navigation once you're inside of an eBook.  To learn more about this feature, please click here.
New Feature! "Did you Mean?" (July 29, 2016 )

The eBook platform now includes an intelligent search engine that automatically provides users with suggested search terms if they try to search an incorrectly spelled word. You can use the new "Did You Mean?" feature when performing a basic search or a search inside of a book.
For example, a search for "fraktions" (instead of "fractions") will deliver multiple suggestions for similar terms:

By clicking on any of these terms, a new search will be conducted and new results will automatically display. 
New Feature! Format Filters (September 11, 2015)
You can now filter all of your eBook titles by format.  Additionally, you can view the format in the following locations:
"Show Details" on the Available Titles page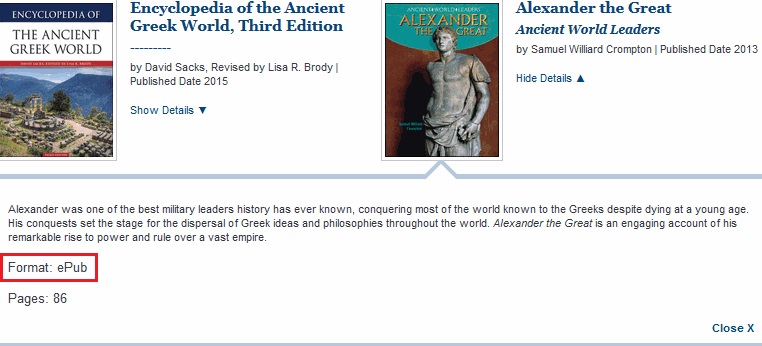 "Title Information" once inside of the book

You can filter your titles by format on the Basic Search Results page and on the Advanced Search page. You can filter by All Formats, ePub & PDF: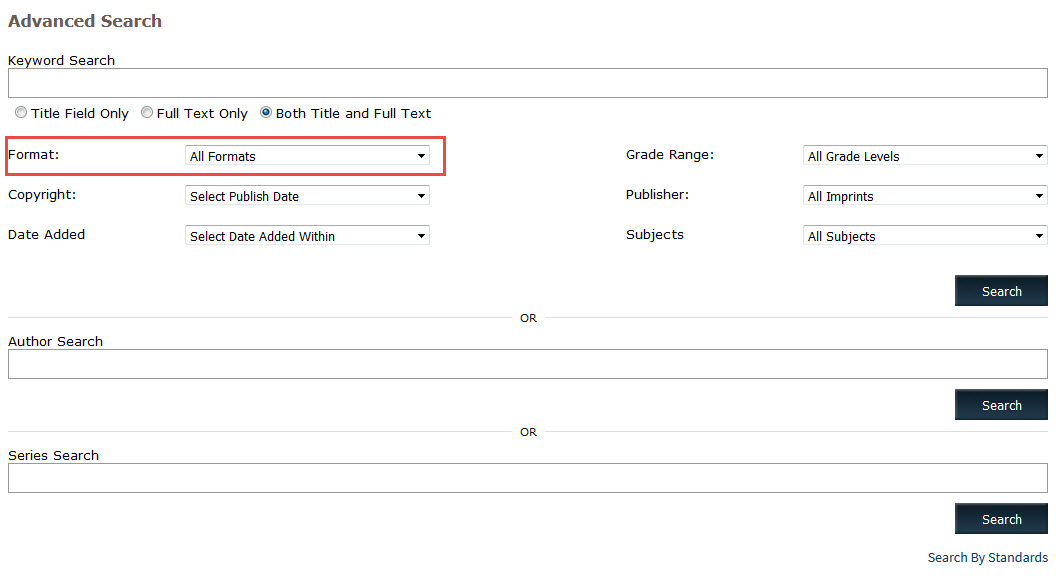 Next Generation Science Standards (August 31, 2015)
We recently added Next Generation Science Standards to your eBook Subscription, joining Common Core Standards, International Baccalaureate Organization Standards, and state and national standards. To search for eBooks in your collection that meet these standards, click "Search by Standards" located to the right of the Search button on the home page.  You can also reach the standards page from the "Advanced Search" page. Click on "Advanced Search" which is also next to the Search button at the top of the home page, and then click "Search by Standards" at the bottom right.
New Feature! Subject Browse Pages Now Have Direct URLS (May 1, 2015)
Our new Subject URLs make it easier to share or revisit any subject browse page.
When browsing any of our top level or secondary subject pages, you will now find a subject URL at the bottom of the page. Copy the link into an email to share with other eBooks users, or save the link for when you want to revisit your titles in a specific subject. Because it is an authenticated link, it can also be posted on your library website for easier access by your patrons or students.
Search Enhancements (November 7, 2015)


In our efforts to continue to improve the Infobase eBook platform, the following search enhancements were made:
Exact Phrase searching is now supported in Basic and Advanced search, as well as the Search Inside feature within each eBook. Anything entered in search with quotes around it will perform an exact phrase search.
 Boolean Operators (AND, OR, NOT) are now supported in Basic and Advanced search, as well as the Search Inside feature within each eBook.
 Search Assist is now working for all subscription accounts as well as a la carte accounts. Search assist will function for Basic Search and for both the Author & Series Search in Advanced Search. 
 New Feature! View Related Titles (August 22, 2015)
As part of our ongoing enhancements to the eBook platform, we are pleased to introduce our newest feature: Related Titles. This option gives you easier access to other titles within the same book series that are included in your account. 
To use this new feature, follow the steps below:
Access a title of your choice.
Select "Related Titles" from the menu on the left.

A list of related titles will display, allowing you to link directly to the related title or "Show Details".
*Please note that this feature can only be viewed if your account has access to multiple titles within the same series. 
New Feature! New Indicator to Show your Purchased and Subscription Titles (July 25, 2015)


You are now able to view the purchase type for all of your eBooks on the Platform. 
Once you're logged into the Platform, you'll have the option to sort your titles by purchase type.  You will also be able to view the purchase type within each eBook. 
To view the Purchase Type within the eBook, select and open the title of your choice.  Please choose "Title Information" from the left side menu, you will be able to view the purchase type here.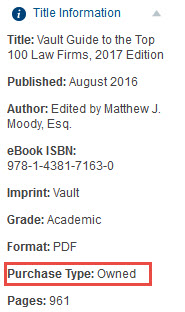 Additionally, account administrators have the option of turning this new indicator off if needed. You can do this in the Admin Portal under "Account Settings"
New Feature! Introducing Embeddable Chapters (April 17, 2015)


We are pleased to introduce a new feature of our EPUB format eBooks: Embeddable Chapters.
EPUB chapters can be embedded:
As part of a lesson plan
To your library/school website
Learning Management Systems
Sharing within your institution
Once embedded, your students/patrons can page through the chapter in the embedded Chapter Viewer and click View Full Title to see the whole book on the Infobase eBooks Platform.
Read this article on how to embed chapters in your LMS, library site, etc.

New Feature! Age/Grade Level Information: Displays Optionally (March 21, 2015)


Admins now have the option to display (or not to display) age/grade level information within eBooks from their Infobase eBooks account.
In the admin portal, go to the Account Settings tab.
Under "Change Default Settings" look for "Display Grade Level". You can use the dropdown option to select On or Off.
ON will display Age/grade level in each eBook of your institution's account. Your students/patrons will see this in each eBook, when they select Title Information while in an Infobase eBook.
OFF will suppress this information so students/patrons will not see it.
New and Improved eBooks Help Center! (September 12, 2014)

We are pleased to introduce the new and improved eBooks Help Center! New improvements include:
•Autonomy - The Help Center now has its own independent URL that can be accessed anywhere, regardless of whether or not you happen to be logged into the platform.
•Accessibility - Since the Help Center no longer requires authentication, all help content can now be shared using direct URLs. 
•Portability - All text-based articles can now be printed, emailed, shared, or saved as PDFs.
•Integration - The Help Center is now fully integrated with our Help Desk, which means easier access to our Support team via email and chat.
Additionally, the Help Center continues to offer the same extensive and ever-expanding knowledgebase with a fresh and updated look.
Click here to access the new eBooks Help Center and don't forget to update those bookmarks!
---